Getting back on track – part 2
21st – December – 2022
---
In the first part of this topic, I told you about my own experience with this year's major downfall and shared some strategies and tips that helped and are still helping me get back on track. In this part, you will read stories from five amazing creatives who step up to share their thoughts. I asked them to write a bit about their experiences with slipping from the track, what they have been struggling with, feeling, how that affected their art-making, and how they are dealing with it. What steps or actions are they taking? What worked and maybe what didn't? Without further ado please meet Paulina Kwietniewska, Daniel Zapata, Dianita Ceron, Raluca Neferu, and Iga Oliwiak.
---
Paulina Kwietniewska, pofessional fine artist
As someone said, sometimes you're ahead, sometimes you're behind: the race is long and in the end, it's only with yourself.
I decided to share my thoughts on this topic as getting back on track is something I have to do very often. Being a mother of two small children means disruptions and changes of plans are a part of my daily routine and in fact, sometimes I'm amazed that I get anything done at all.
When I'm writing these words, I've been home with the kids for 14 days because it's flu season. I surely have 5 more days to go and hopefully, then I'll be able to get 'back on track' again.
Working like this is a struggle – I am a professional painter, by what I mean it's my only source of income. It also means I have to be very organized and simply deliver what I promise and when I have promised it for. When life is unexpected like this, I make sure to establish myself small goals for every day and specify the timeline for my work to be done. It can either be a small part of the painting I'm able to finish in one go (like a hand) or a small format commission (like an A6 watercolor portrait). It's much easier to keep going by those teeny tiny steps – this way you don't go off-track completely and coming back is way easier as you don't have to catch up with everything. My way from being an unemployed young mum to becoming a professional painter was a journey walked one foot by the other. It was a million tiny steps but here I am.
I also have a to-do list of things that I can do when I can't paint (because there are too many distractions or because I feel so tired or demotivated): it's boring things like accounting, updating my website, going through my mailbox, etc. Also, when I feel blocked and like I can't paint, I start with a sketchbook page or a tiny sketch from life. Then, what usually happens is that I start feeling all the good things again and it's easier to get back to work.
My usual mistake and what makes me feel bad about my painting is the pressure I keep putting on myself. I can compare myself to many people but the truth is, we all come from different places and when I compare my new paintings to my old paintings, the progress is surely there – so I have to learn to focus more on what I do and let go of all jealousy. As someone said, sometimes you're ahead, sometimes you're behind: the race is long and in the end, it's only with yourself.
My last piece of advice would be that it's ok to not paint sometimes. It's counterintuitive for me as I always want to push hard and learn fast but to be honest, it's always a great boost for my creativity when I leave my paints for a while. I feel that this one has to be intentional though – make sure you don't feel deprived or that you're wasting your time. Just see who you are without drawing and painting and then bring that fresh energy into your art after the break.
You can find more about Paulina and her work here:
Website: www.paulinakwietniewska.com
Custom Portraits: https://paulinakwietniewska.com/collections/custom-portraits
Instagram: www.instagram.com/paulina.kwietniewska.paintings
Facebook: www.facebook.com/pkwietn
---
Daniel Zapata, graphic designer
It's something I have to fight with constantly, after having long office days with a lot of stress, my energy levels are at rock bottom and it's hard for me to concentrate and focus on personal projects.
But I really believe that the best way to come back is through action, I'm not talking about getting overwhelmed without sense until we burn out, it has already happened to me and it's not nice and I don't recommend it hehe. But I am talking about finding a way to move to an active attitude, things do not happen by themselves, we need to take control of our emotions and work with them because otherwise, we can stay in a pit of self-pity for long periods of time something that I have also gone through and it is even less beautiful hahaha.
Dance with the chaos
My biggest problem is procrastination while I find the "Flow State" and while that happens I can end up wasting hours and hours behind video games, social networks, or researching things totally different from what I need, I have also noticed that my concentration levels are much worse than a few years ago. I imagine that due to the accelerated work life I lead and a large number of stimuli we receive thanks to social networks. So taking that into account the first thing I do is to increase the friction of my distractions, I block my applications with blocking software, and I use several combined so that the friction is the maximum possible XD I try to turn off or leave my phone away, obviously many times the habit wins me and I don't do it, but definitely when I do it I do better.

Then I like to write or sketch and if possible only with paper and pencil, it helps me to clean my mental chaos which is always VERY BIG, it's possibly one of the things that stop me from doing my projects and makes me procrastinate because having so many things in my head is dirty and noisy and it's very difficult to work without cleaning and tidying up a bit of the crazy head we have. I try to pick one project if I have several, I try to go for the simplest and quickest, then another one can be done, but I don't want to waste time choosing I just want to be on track with something, and then divide that project into smaller and more manageable tasks. This way, I find the project less overwhelming and easier to maintain if I have to do it for a long time.
In short, getting back on track with a creative project and overcoming friction and procrastination can be challenging, but it's not impossible. If you break your project into smaller tasks, identify and address the underlying causes of procrastination, and seek support and encouragement, you can stay focused and motivated to see your project through to the end. But well it always sounds so much nicer that way, in practice, it's a daily struggle, so patience, turn off the tfn, put on some music, and dance with the chaos
Ex-Dictator is a cooperative board game, where players work together to force the removal of the tyrant who rules them, face dictators of modern history such as F. Castro, Mugabe, Maduro, Kim Jong-un, Franco and Mussolini and liberate your country, prevent the dictator from taking control of the different areas that make up a truly democratic territory such as the legislative power, the executive power, the electoral power, the military forces and citizen liberties and establish a strategy that forces the departure of the tyrant on duty.
You can find more about Daniel and his work here:
Website: Www.Danielzapatas.com
Behance: https://www.behance.net/danielzapatas
Instagram: https://www.instagram.com/danielzapatas/
Linkedin: https://www.linkedin.com/mwlite/in/danielzapatas
Twitter: https://twitter.com/danielzapatas
---
Dianita Ceron, professional artist and illustrator
One step at a time. One obstacle after the other, solving each one of them as I was facing them. If I fall, I go back on the saddle and try again.
I'm a traditional artist born in Veracruz, Mexico (Living in Texas). I have a Bachelor's degree in Engineering from our state university and switched to art (self-taught) not long after I graduated. I don't want to go deeply personal telling you pages and pages of why I am scared of failing. It's been so often, falling too harshly that I developed a tremendous state of paralysis because of nervousness to do badly again. Going back on track sometimes feels like an endless battle.
This brings me back to my time riding horses. I was the one who kept falling down over and over! I remember that I was so afraid and my body felt super flimsy. Not strong enough. I wasn't taken seriously even though I was there, every weekend trying my best. I was the one who just couldn't do it. I wasn't good enough. Then I remember that one day, in a competition, I arrived only with a clear thought in my head: "I'm not going to fall". I gathered all my strength, learned my course, and went in focused on performing every step as best as I could. I didn't fall. I think that I actually won second place that day! Those days are over, but the teachings remain in the back of my mind: One step at a time. One obstacle after the other, solving each one of them as I was facing them. If I fall, I go back on the saddle and try again.
In the context of art, every fall, or better said, every failure can feel equally devastating. I've had my fair share of rejections and failures in the 18 years I've called myself an artist. I've had the most difficult ones in the past 4 years. The hardest part is feeling that even my best work now it's not up to par with the work of my peers. As 2022 comes to an end, I've been dealing with the emotions caused by the grants I didn't get, the annuals I keep submitting to, and paying for that don't select my work. Art not selling. That portfolio review years ago that made me feel so inadequate and boring while everyone else got positive reactions. And the list will go on. I'm never ready for another rejection. Part of it is the realization that the little voice inside my head actually was right and I wasn't good enough. Again and again, the illusion dissolved and I didn't know why.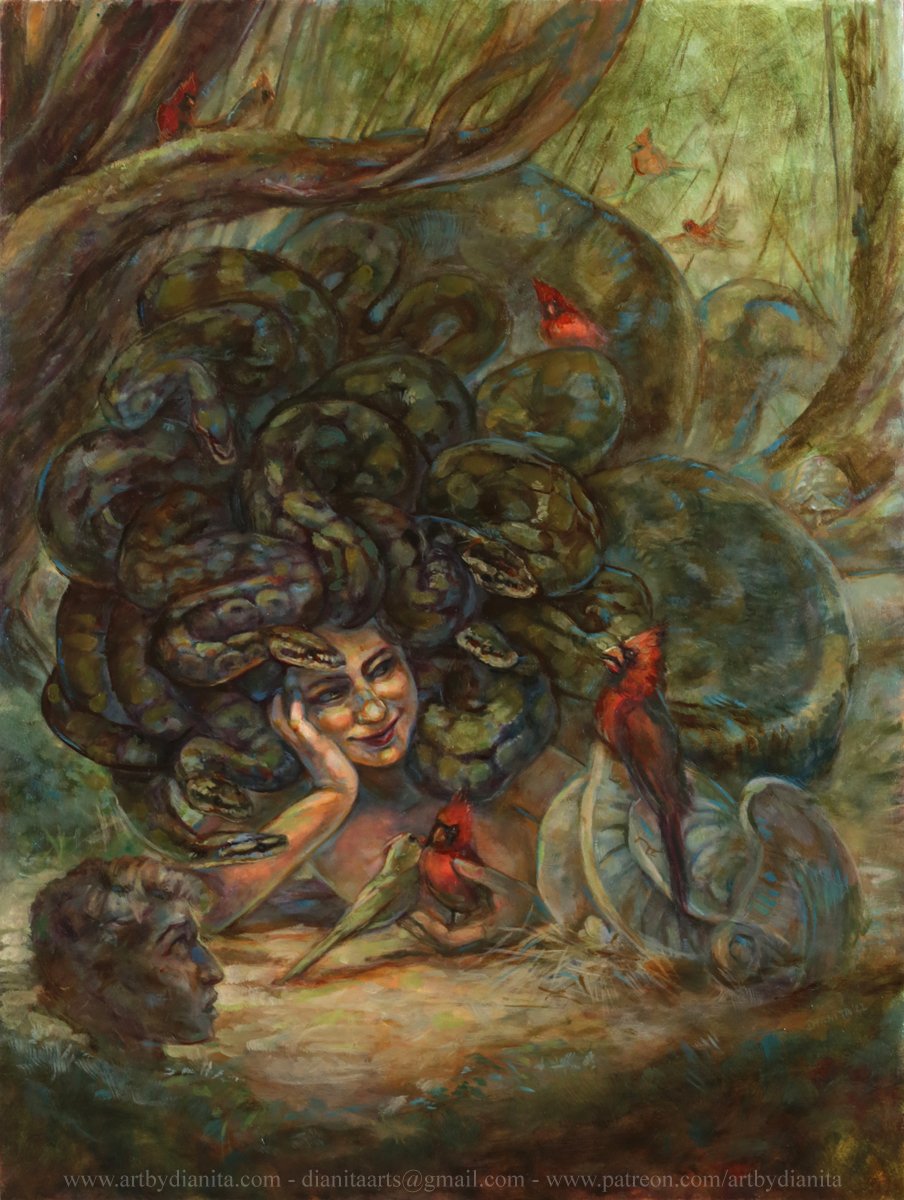 My husband was the first one in my life to tell me something like "Don't be afraid to fail and if you're going to fail, fail fast". This was a scary thought at first! Once I took my first art classes online (3 yrs ago), I realized that I lacked a lot, especially an understanding of the process of creating art. Specifically why I get stuck and how to overcome this block. In 3 years I think I've learned to keep going, to keep doing, and to find the value in problem-solving rather than swimming in a sea of tears because I don't know what to do next. I was so afraid of failing that I couldn't even draw a line or just paint.
I've also come to the conclusion that I can't put all my emotional chips in the hands of others: the judges, the curators, the art directors, etc. It is exhausting. It's always an "I knew I wasn't good enough for this, but I wanted to try". I think I've tried to stop looking out for validation from people for a bit. Now I'm turning to observe my own process. I'm trying to find space for improvements and for being more efficient and effective in my work. Every day I try to evaluate where I go sideways. Why didn't I finish what I expected to finish? It was something I did or was it something external that needed to be a priority?
And the next day I try to tweak my process in some way. If it works, I keep it in my toolkit. If it doesn't, maybe it wasn't a good tool for this particular day. One thing that helps me is to grab my "mental health notebook". There, with the help of an emotions chart, I put my thoughts into words to elaborate on why I feel stuck. Where the fear comes from or just why do I feel so defeated. And then, I do a mental check of what I have achieved in these years (sometimes with the help of a friend). A big tarot deck project, a couple of covers, and interior illustration work. Some invitations to collaborative projects as well. I was selected for a special group in 2018, for Month of Fear and Love and to have my work on Everyday Original. It's not much for 18 yrs of being an artist, but they have to matter to me. The thing that always grounds me is realizing that many of my personal pieces from this and past years have found homes with wonderful collectors.
Failing clouds my perception and can come in many forms, but focusing on learning from those falls makes going back to the saddle, or the chair in the art room, less scary. Learning to enjoy the process clears my mind enough to recognize and anticipate possible downturns. And I feel less guilty to allow myself to rest for a bit, clear up my mind and return the next time with perhaps a solution for the artwork at hand. I just want to keep learning and hopefully unlock the next level, whatever this gets to mean to me and my future art. I'll keep trying to submit my art, but I'm carefully setting boundaries for myself and my expectations.

My Dad, who battles now an almost late-stage Alzheimer's (early onset in his 50's) told me something that keeps turning out to be true: "Keep making your art, your audience will find you"

That hopeful thought keeps me going. I think I want to let go for a bit this dream of being a triumphant sought-for artist like many of my friends. I sometimes think I might be that person that "has always been there, trying her best" and perhaps that's enough. I'll definitely keep failing, crying, feeling hopeless and wishing to be the miraculous now 40+ yr old Mexican artist who magically becomes a star. Dreaming is free! But, right now, I need to keep making the best art that I can. Maybe someday I'll be able to check all the boxes for different projects and solidify this career I dream of.
You can find more about Dianita and her works here:
Website: https://www.artbydianita.com
Shop: https://www.artbydianita.com/shop
Patreon: https://www.patreon.com/artbydianita
Instagram: https://www.instagram.com/dianita_art
Twitter: https://www.twitter.com/dianita_art
Facebook: https://www.facebook.com/dianitaart
Tumblr: https://www.tumblr.com/blog/bydianita
---
Raluca Neferu, professional fine artist
I understood that my yearning for home was not merely for my homelands, but even more so for my innerlands, that my return home was actually a return to myself.
Every journey eventually leads back home, and so it is for artists also.
I too came back home after six years of travel and study abroad, a journey throughout which I gained both the self-trust and the self-knowledge to take my destiny into my own hands.
Even as my horizons expanded while I assimilated various European cultures, my yearning gnawed at me ever stronger to return to the beautiful lands and loving family I had left behind in Romania.
It was hard to leave behind the art school at Atelier Madrid and the wonderful friends (such as Marta 🙂 that I made there, but I felt a calling to make a difference in the Romanian art world, and it was time to put my skills to this noble task.
Upon arrival, however, it seemed that taking the Romanian art world by storm would have to wait until after I applied the entire interior design process at my twelve-hour workday job while also starting my company and refurbishing our new apartment.
The latter included unpacking our former furniture, picking new ones, sandscraping and painting the walls, fixing the plumbing to solve a water leak, and managing neighbor relations during the noisy process.
Not exactly what I imagined myself doing after learning fine art painting for three years!
But even though I didn't get a chance to put a single brushstroke on the easel for three months, I was still an artist through and through. So after indulging my workaholic binge to near burn-out, I chose to quit my new job, and instead simply take my time and allow life to happen.
As soon as I did, I rediscovered the amazing effect of giving myself the mental and physical space to simply play. Sketching out new ideas for my paintings and illustrations gave me a tremendous burst of creativity and energy.
That this "slow living" lifestyle enables such a high intensity of vitality and purpose for me is one of the most important life lessons I ever learned, so I do not regret but instead cherish the time I spent taking it to heart.
Ceasing the self-destructive mental struggle of juggling unhealthy, unrealistic, and unnecessary deadlines, goalscapes, and calendars, I was finally free to return to myself. To rekindle my free imagination by once again delving into my expansive inner world. To enjoy my peaceful life besides my wonderfully loving man.
I understood that my yearning for home was not merely for my homelands, but even more so for my innerlands, that my return home was actually a return to myself.
Now that I am back home, and finally settled in nice and cozy, my journey is coming full circle, and I am ready to spread my artist wings into ever wider spirals of achievement…slowly.
You can find more about Raluca and her work here:
Website: https://ralucaneferu.com/
Facebook: https://www.facebook.com/ralucaneferuart/
Instagram: https://www.instagram.com/raluca_neferu_art/?hl=en
---
Iga "Igson" Oliwiak, professional artist, illustrator, and art director
I've always dreamt big. I felt that if others can achieve big things, be successful, and work for amazing projects and studios, then I – with, of course, enough work and effort – can achieve anything I want as well. I was always feeding myself with a lot of motivational content, I've attended conferences, lectures, workshops, listened to interviews and podcasts and basically whatever was out there. I was so hungry for knowledge and content.
My goal was to become *a successful artist*, whatever that exactly meant for me at that time – and I'm still asking myself what does it mean – where is the magical line of being successful enough?
So I was ready to put in that effort, to practice daily, to spend literally most of my life doing anything art-related and anything that could bring me closer to that goal. I was staying in the studio after work, working on my personal stuff, or simply doing studies, I was using my lunch breaks as often as possible to go out and paint plain airs around. It's really surprising how much energy I had back then. Work hard (but also play hard) was my motto. And it was really all going well as long as I enjoyed it. Until I didn't.
Things started to fall apart after I left my daily studio job and started freelancing. I had really a lot on my plate – many commissions for clients that were queuing up and needed a lot of my time and energy, Patreon, store, marketing on social media, and then also started part-time studio work. Literally, there was always something to be done, hanging in the air. And gradually I had less and less will to do these things. Instead of enjoying my work, it started to be something that I "had" to do but there was no same passion as before. And eventually, something that I had to force myself to do. But I would put constant pressure on myself and this connected with being a perfectionist, couldn't last long. It was also hard for me to relax as at the back of my head I felt that I should be working and not 'wasting' time. Always putting work first – if I already paint – I should be painting commissions, not my personal stuff. So at the time I slowly started to associate the activity of 'painting' with a chore, whereas before it was something I loved most.
As I stopped enjoying creating, it felt like my whole world had been turned upside down. My main thing in life connected to my goals, dreams, and way of spending most of my time and even self-worth – it was all about art and painting. And then it was gone. I've been looking at my working desk or an easel with discouragement or even disgust each time I thought maybe I could do something. I had no idea what to do with that, I felt lost. At first, I was feeling guilty and still trying to force myself. But then I got tired, my battery went off.
There was a time when I didn't have absolutely any energy to do anything, getting up from bed in the morning was a true struggle cause what's the point if everything is so meaningless and there's absolutely nothing that would bring me joy. The paradox of having all the time in the world but no activity worth spending it or no mental nor physical capacity to do anything. Of course, I had to work on the way, doing my studio work and some additional, very few commissions (as I've been possibly rejecting any additional work that I could). I stopped Patreon, closed my store for a long time, and simply started to get rid of any possible work obligations (it eventually worked out after 8 months from this decision, but I still kept my part-time studio work).
I've been burnt out for almost 3 years now. After such a long time I've already accepted that this is my state now. That I have to heal first in order to get things going again. That I need a break, a very long one. To not only recharge my current battery but to actually replace it completely with a brand new one, that will last longer and need less time to charge. The great reset. I accepted that it is okay not to be painting and improving my skills all the time. I've eventually started to pick up new hobbies and activities that are not connected to painting (yet still can be creative) and simply enjoy doing other things. Focusing more on my mental health, self-reflection, and mindfulness. Now I have many ideas that I eventually would like to do, many goals, and plans for the future. But yet no energy, no will, when it comes to actually doing it. I know it's been a constant pressure to improve, to do more, all the hustling which caused that. Plus, of course, other life circumstances that surely added to that as well.
Soon I will finish all the remaining work I got for the current project I work on and I plan to take a sweet long break to figure out what I'm gonna do with my life in general. Art will always be present, I cannot live without it. But I want to focus purely on my own thing, start experimenting with different forms of artistic expression and live life to hopefully find the excitement and get inspired to do things again. A blank canvas and no expectations whatsoever. This all may sound like a very negative experience but I actually started looking at it as a trigger for a change – to actually live a better, more conscious life. It is scary not knowing what's gonna happen next, but at the same time exciting. I'll see what the future brings, the new chapter is about to start 🙂
You can find more about Iga here:
Website: https://www.igsonart.com/
Instagram: https://www.instagram.com/igsonart/
Artstation: https://www.artstation.com/igsonart
Patreon: https://www.patreon.com/igsonart
---
I hope you found those stories relatable, helpful, and motivating, as I did. We all struggle with different things and in different ways. We all slip from the track sometimes, and it's… OK. I've said that before but I'll repeat: it's not a shame that it happened to you. You are not a less or worse person or artist. It doesn't mean you are weak or not "enough". It's not a race and working yourself to the edge of burnout or to such a discouragement that you don't want to create anymore does no good to anyone. It's ok to slow down, take breaks, spend time in nature or with loved ones, doing different things. That is only filling in your creative well 🙂 There is the right time for everything you want to achieve. Those struggles and falls are just part of the journey. When that happens I think that the most important is to not stay paralyzed for a long time but actively look for ways to go forward again. Slowly, with self-care, just one step at a time.