Writing has been part of my life almost on a daily basis since I was 11. I used it as a way to put out strong emotions I've been feeling inside, as an attempt to organize and understand many chaotic thoughts. Writing (to myself mostly) became my first form of expression. For some time now I've been trying to transform this writing energy I have beyond journaling and expand into more fictional worlds and stories. Storytelling is something I'm in love with and would like to explore further.
You can find all those descriptions in my portfolio, but I thought it would be nice to gather them all in one place:) I'd like to share with you some little stories or more creative descriptions I've made for my drawings.
Myshka
Enchanted Ocarina Made Of Ancient Tree Bends The Will Of Creatures And Never Sets Them Free Charmed By Compelling Sound By The Spell They Can't Resist Now To The Girl Are Bound As Long As They Exist There's Such A Power In Little Paws And Strength In Quantity Those Are Nature's Laws Where Hundred Creates The Unity So Beware Of This Piercing Sound Of The Smoke Floating In The Air You'll See No Escape Around Just The Mice, So… Prepare
Enchanted

Ancient Stories Have Been Told Of The Creatures Hosting Mortal Spell Once Belonged To The Spirit's World Now Among The Humans Dwell
In The Search For Purest Souls The Flesh They Could Possess Desire Flows With No Control There Is No Time For "Yes"
Like The Tender Mist They Fall Touching Softly Naked Skin For They Too Wish To Be Whole Something They Have Never Been
Don't Try To Run My Sweetest One For They Are Not Here To Kill The Enchanted Kiss Must Be Done So Close Your Eyes… Surrender… Feel
The Keeper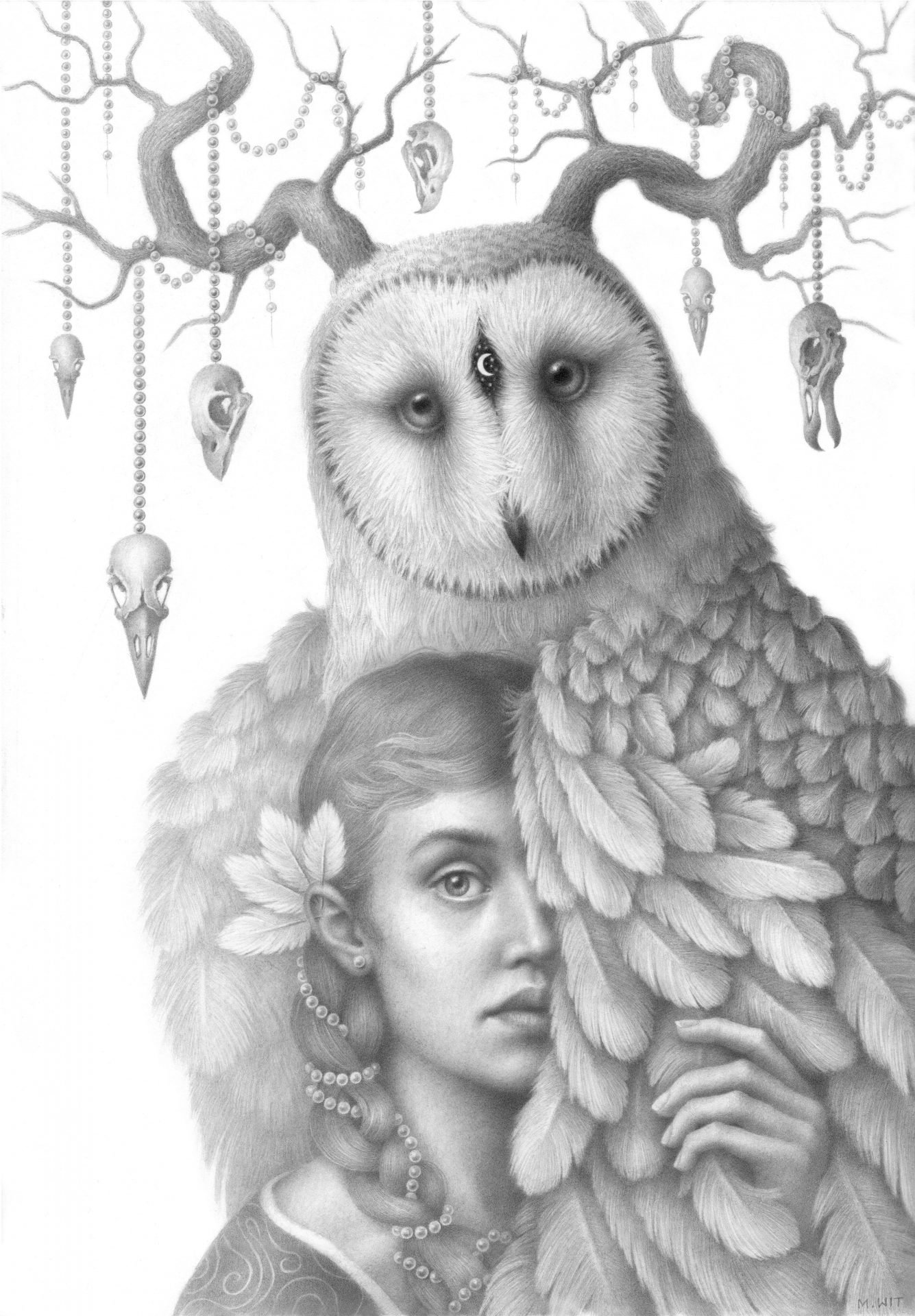 The Keeper of souls forgotten and lost
Messenger of death is his other name
He seeks for truth no matter the cost
Powerful spirit which no one can tame
Look for the answers in omniscient eye
Don't lose your soul in feathers' maze
Keep your eyes open and head up high
But who can withstand this piercing gaze?
Battle of Flowers
Winter Rose
Ancestors Awakening
The Seer
She sees beyond the shadows and unseen places of the soul. She speaks of truth and whispers about the things you fear the most.
Look into her all-seeing eye and face your demons. But do not seek for salvation in truth, for truth may change you forever.
Szeptucha (Whisperer)
Ancient stories tell of creatures that bloom under the starry night sky of spring. It is told that they whisper of truth. But only those who know how to listen and ask the right questions can hear their voices. What is it that you desire to know?
Whisper Catcher
Daughter of the night